NOW AVAILABLE
a Dark Psychological Thriller, by M.T. Bartone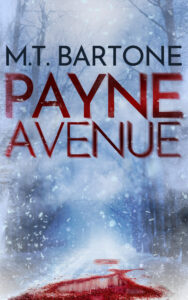 A fateful encounter of two strangers—a man and a woman—twists the direction of their lives and leads to deadly consequences.
The man, Eddie Bracchio, is a ruthless killer from a present-day criminal organization out of Brooklyn, New York. He returns to his hometown of St. Paul, Minnesota and settles into the familiar Payne Avenue neighborhood, a small and diverse community on the east side of town. Upon his arrival, he meets and falls for a beautiful woman—a woman he cannot have.
The woman is Kate De Luca. Kate is happily married with a preteen son. She and her family live a quiet life but struggle financially, so when Kate receives a cold call from a potential client, her prospects as a real estate agent brighten.
That client is Eddie. He quickly gains a reputation in the neighborhood as a charismatic and upstanding businessman, while at the same time, he delves deep into the underworld of illegal activities in the already crime-ridden area. As his power expands and the money rolls in, his attraction to Kate becomes an obsession.
Through his charm and charisma, Eddie finds ways to be near Kate. She has no idea he wants to possess her, and no idea that he plans to destroy her life to make that happen. So, when Kate loses the ones she loves most, she is crippled by grief, despair and then bound by fury, all of which fuel her plan for vengeance.
**Content Warning:
This book contains mature content unsuitable for children and some adult readers, including violence, strong language, animal death, sexual content, and grief.